Absolutely LOVED this scrub! The smell is divine!!! Such a simple, fun and easy product to use that left my skin feeling incredible afterwards – soft, smooth and hydrated. I have sensitive skin which reacts to most facial cleansers/products, but this scrub I had absolutely no problems with. I would definitely recommend to all!
– SHANEEN.M
Blush Body have an absolutely amazing coffee scrub!!! I switched to to Blush cos I couldn't believe that the face scrub that I used for many years (one that is constantly advertised as natural) actually contains over 25 ingredients with many hidden nasties 🙁 The Blush Body Scrub has only 4 ingredients. All of which are 100% natural, vegan and organic…i LOVE that!!! And I can't even stress how soft my skin feels after every scrub. Even a few scrubs a week over the past few weeks have made such a positive impact on my skin. Amazing product. Thank you soo much Blush Body! X
– TATIANA.S.A
Really beautiful products. I have sensitive skin & they are gentle enough to remove dead skin whilst leaving my skin feeling moisturized. Highly recommend.
– MELANIE.W
This morning I had the pleasure of using these products. My daughters and i made up the clay masks and basked in the sun. This afternoon I have the confidence to go out without makeup and feel glorious in my own skin after this amazing product left it feeling soft and fresh. Will definitely be investing in these products for the rest of my life.
– TULLY.F
The coffee scrub is amazing and works so well at getting your tans off!! It honestly left my skin so hydrated and smooth! Best coffee scrub I have used!!
– KIRSTY.N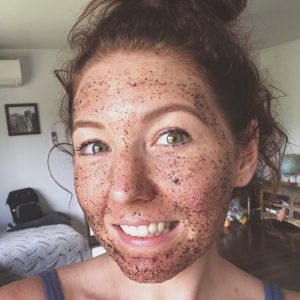 Love love love the DIY clay mask! Made my skin feel super soft. Cant wait to try the coffee scrub.
– JACQUELINE.D
What a beautiful product, left my skin moist, silky and smooth. Would definitely recommend this scrub.
– SHERYL.K
I used the coffee scrub and it felt amazing. A little goes a long way and my skin felt so soft and wonderful afterwards. I'm excited to try more products.
– FAL.W
The coffee face mask is actually amazing. I've never been drawn to regularly using any kind of face mask/scrub product but after using this one, my face was soft, clear, and I could still feel/see the effects days after using it. I use it once a week now, if not more. Plus it's just great knowing that it's only natural ingredients going on my skin. I love it.
– WENDY.K
I've been using another fairly well known coffee scrub and I thought it was pretty good until I tried Blush Coffee Scrub. Perfect consistency, can massage and rub it on without losing most of it on the shower floor. Skin feels amazingly moisturized. Love being able to buy a locally produced product! Winning all round!
– DEBORAH.W
Got my pamper pack this morning…. so excited…. the presentation is fantastic and the products awesome. Will definitely be buying more.
– JOANNE.T
These products are amazing!! I highly recommend the diy clay masks, I have super oily skin that is prone to breakouts and after just one use I haven't had a single pimple! The packaging is sooo cute and everything is so well presented! The coffee scrub is amazing too! Smells sooo good!
– GEORGIA.M